VoIP Phone System 
A VoIP (Voice over Internet Protocol) system gives you everything a traditional phone system does and more.
VoIP technology, combined with cloud hosting, allows any size of business to have a robust set of calling features and integrated apps that often keep costs lower than traditional phone solutions with options of it being hosted in a secure data centre or on-premise.
VoIP Cost-efficient
Moving to VoIP is a simple process this allows you to lower your call cost one of the major benefits of VoIP, this can make it an cost-efficient upgrade, with added benefits of call recording and Soft-phone extensions and more, moving to VoIP is simple.
Why 3CX and Supported Providers
We offer feature packed, cost savings and reliable cloud hosted phone system! With thousands into equipment that becomes obsolete within 1 to 2 years? With one simple monthly cost can provide you with the most advanced phone system on the market, packed with features that can help improve efficiency, satisfaction and lower your monthly phone costs. 3CX is used by more than 40,000 companies globally and growing fast it has been recognised for its innovation and cutting-edge technology.
Some of the benefits of 3CX
Ideal for home and flexible working offering business continuity
Get new features immediately, keep up to date with all security patches as well
Save money, work smarter with flexible integration to website Office 365 and CRMs
Multi-site deployment – only one system to buy
To find out more contact us
Whats Makes VoIP Awesome
Moving Office
Keep your existing number no matter where you move even to a different dialling code, you also save on cost of reprinting literature and stationery, and you can still make calls from Soft phones or a mobile app when moving, you will never be offline.
In case of Emergency
Sip Lines are inherently disaster recovery and business continuity giving you the flexibility to work any where and reroute calls anywhere.
How BIG can you Go?
Sip can be upscales to unlimited connections for call centres or enterprise business with an equipped PBX system, adding and removing lines is easy.
Benefits over ISDN
IDSN Lines are now being removed from service as there much more cost-effective options out there.
Loss of Internet
If you lose internet or your office is offline some AIP providers like us will set a failover number so all calls will automatically get re-routed to another location or call centre.
Full HD
A lot of SIP Trunk Providers will use ISDN quality trunks, and some will try and save on bandwidth by using lower quality codecs, we can supply internet lines that support the best quality audio so you can hear your customer.
How Resilient is SIP
Sip has home a long way you use it a lot in your life and do not ever know that you have, more and more companies are moving to SIP for cost saving and ability to work anywhere.
Keeping your Number
We can port your current phone number into a sip service just like moving mobile phone providers so you can always keep your number.
Key Benefits
Work from anywhere.
Seamless set-up.
Intergrade directly with supported CRM systems.
IOS and Android Apps.
Video Conferencing.
Integrate Live Chat and Talk on Any Website.
Advanced Contact Centre Reporting.
Queue Strategies and Real-Time Statistics.
Advanced Call Centre Features Included.
On-Premise or In Cloud deployment.
High Arability failover. (Enterprise Version)
Virtualize with VMware, Hyper-V or KVM.
Windows or Linux Options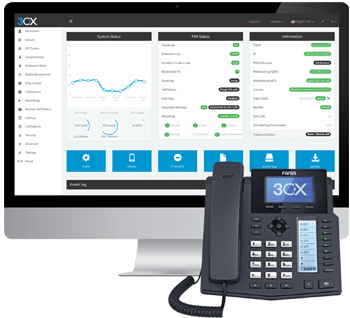 42% OF BUSINESSES USE VOIP SYSTEMS DUE TO ITS PRODUCTIVITY AND COST-SAVING BENEFITS
COMPANIES THAT INVESTED IN TECHNOLOGY THAT ALLOWS THE EMPLOYEES THE FLEXIBILTY TO WORK REMOTELY SAW PRODUCTIVITY RISE BY 30%
COMPANIES THAT INVESTED IN TECHNOLOGY THAT ALLOWS THE EMPLOYEES THE FLEXIBILTY TO WORK REMOTELY SAW PRODUCTIVITY RISE BY 30%